Matheny learns plenty in first season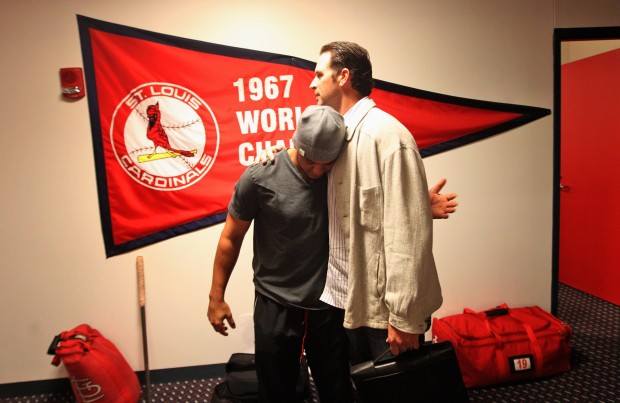 A season that lasted 175 games, included 95 wins and brought his team within nine innings of a World Series appearance left Cardinals manager Mike Matheny emotionally drained but wiser for the experience.
Matheny entered the 2012 season a first-time manager inheriting a World Series champion from a future Hall of Famer. He was assigned a coaching staff, a fairly impressive roster with a vulnerable bullpen and a robust starting rotation that for a second straight spring training lost a key arm before opening day.
When October spit him out its other side, Matheny had acquired a better sense of how to utilize his staff and a greater feel for running a bullpen that didn't take final shape until August.
Matheny also learned first-hand how to deal with devastating losses as well as exhilarating reversals.
"I think we had an entertaining season," Matheny summarized last week, three days after the Cardinals suffered the final installment of a seven-game loss to the San Francisco Giants in the National League championship series. "I know it was emotionally draining. I don't think I've been part of a team that had so many gut-wrenching games — not just the close ones, but crazy stuff."
Matheny evolved from conducting lengthy afternoon sessions with his coaches during spring training to being surrounded by them near the dugout rail during early-season games. The situation was a natural outgrowth of an expedited managerial search that followed a lengthy postseason, but Matheny admittedly had to learn which voices to listen to and when.
"I wanted them thinking alongside me so we don't let anything slip. It was a little more chaotic at the beginning because we were all trying to feel each other out," Matheny said. "I'm trying to pick apart people's strengths and weaknesses and where I believe they can help the guys the most. It didn't take long.
"They're talented. They just needed to know where they were needed. They could fill a lot of different roles."
The club was immediately tested by the spring training loss of co-ace Chris Carpenter to a recurring nerve disorder. First baseman Lance Berkman experienced knee discomfort in March that eventually led to two operations. Shortstop Rafael Furcal suffered a season-ending ligament sprain in Washington just before the club made its September push. Lethander Jaime Garcia dealt with shoulder discomfort that necessitated two months off. Managing a defending world champion never became a push-button experience.
Still, an experienced roster played as such.
"This team was very consistent. We got beat, it was dead in here. We came back the next day and it was like it never happened," Matheny said.
"I never saw them go flat because of adversity," he said. "At times I thought adversity brought more out of them."
The manager interspersed themes of urgency and resilience through an 88-win regular season that saw the Cardinals fall behind the Cincinnati Reds on May 24, endure consecutive losing months, find themselves in third place as late as Aug. 21, yet still find enough to craft a 14-6 finishing kick.
Reliever Edward Mujica, whose July 31 acquisition signaled a turnaround for an unpredictable bullpen, thought Matheny "like a player" in his ability to relate to his team. Even during the first half's bullpen chaos, no one publicly took issue with managerial moves. Instead, the club embraced Matheny's mantra to "have each other's back."
General manager John Mozeliak pressed hard for Matheny's hiring. He had made known his intention to hire Matheny long before Tony La Russa announced his retirement within hours of the team's victory parade. Mozeliak also understood there would be a learning curve, at times a steep one.
"When you look at the team we took from spring training, the expectation was the bullpen would be a strength and the rotation would be a question. The reality turned out to be very different," Mozeliak said. "It was the bullpen that became a struggle. And even the most experienced manager will have a difficult time dealing with an unsettled bullpen."
Acquiring Mujica represented a "huge" move, according to Matheny, who established a pecking order that utilized Mujica in the seventh inning, Mitchell Boggs in the eighth and closer Jason Motte in the ninth. All three excelled under more predictable circumstances.
"It didn't get much attention on the national scene. But everyone in here saw what (the trade) did for us," Matheny said. "We were struggling. It's amazing how one piece instantly changed things."
Matheny became a much stronger proponent of a static lineup than La Russa. In 13 postseason games, Matheny made only two adjustments to the batting order and lineup, each resulting from injuries. Matheny acknowledged Thursday such heavy reliance on a set lineup may have eroded his bench's effectiveness, making it more difficult to make changes as the offense mustered only one run in the final three NLCS games.
"I looked every day at it and every night I thought about it. But we also rode those guys so hard because they were coming together so well as a lineup. The guys who you wanted to put in as a spark hadn't seen that many pitches," he said.
Matheny took the playoff defeat stoically. He stopped at numerous lockers following Game 7 to offer words of appreciation and consolation. Like most, he saw the Game 5 loss to soft-tossing Giants lefthander Barry Zito as the turning point.
"We're watching it and watching the radar guy thinking, 'How is this happening?'" Matheny recalled. "Well, he's making quality pitches. He's not making that many mistakes."
The Cardinals ultimately blinked. The weight of allowing 10 unearned runs in the series and getting outscored 16-0 in the first four innings of the final three games proved fatal. "Game 5 was the turning point, to be sure," Matheny said. "You could just see the frustration on everybody knowing that it was right there to be put away, to be able to do it at home and you're not facing (Matt) Cain, (Ryan) Vogelsong and (Tim) Lincecum. But that's how the game works."
Some described the Cardinals' offensive brownout as inexplicable. Matheny saw it differently because he, like others familiar with a two-sided offense, had seen it before, especially in the second half.
"I couldn't say it didn't look like us because we saw this all season. There were times it just wasn't there," Matheny noted. "It didn't matter what kind of batting practice, what kind of extra work or meetings we had. This team went in ruts together. We were just looking for spark to get it going. When you look at Game 5 we had opportunities just like we had all season long."