Cards make one change to coaching staff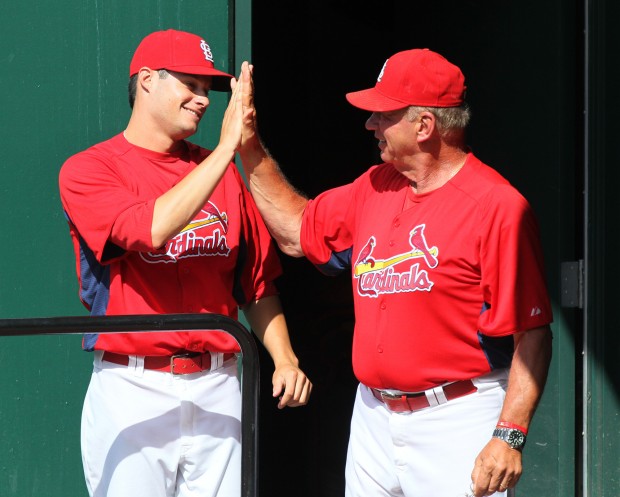 ST. LOUIS • The Cardinals will add a new bullpen coach after notifying Dyar Miller, a veteran of the organization, that his contract will not be renewed for the 2013 season, general manager John Mozeliak announced this morning at Busch Stadium.
All of the other coaches, including hitting coach Mark McGwire, pitching coach Derek Lilliquist and third-base coach Jose Oquendo, will be offered a chance to return.
Mozeliak said the move allows manager Mike Matheny to put his fingerprints on the coaching staff.
"From a standpoint when we're putting the whole staff together," Mozeliak said, "we wanted to look at long-term."
Mozeliak said the preference would be to fill the position from within the organization. Cal Eldred has been mentioned as a possible candidate in the past, and he is a close friend of Matheny's. Blaise Ilsley has served in the minor-leagues, last year with Class AAA Memphis, and is well-regarded within the organization and familiar with the young arms that Cardinals will rely on next season.
When asked, he could not say whether Miller would be offered a chance to remain within the organization. Miller served for a long time as a minor-league coach and the pitching coordinator.
Some other comments from Mozeliak this morning:
• He called re-signing Kyle Lohse "probably unlikely."
• He said all of the young, power-arm pitchers like Lance Lynn, Joe Kelly, Trevor Rosenthal and Shelby Miller will be brought to spring training conditioned as starters so that they can compete for an opening in the rotation. He added that Lynn has been given an offseason plan that focused on conditioning.
• There will be concern about Jaime Garcia's health and Rafael Furcal's availability that won't be answered or cleared until spring training.
"The probability of (Garcia) having surgery is very remote or small at this point," Mozeliak said. "We'll go into spring training, hold our breath a little bit with him. Until you ramp it up and put yourself on the mound, we're not going to know for sure."
• He said that with veteran Lance Berkman "it's hard to imagine finding a fit for him here," Mozeliak said.
• Skip Schumaker is not seen as an option at second base for the team going into 2013.
"It's hard to imagine him getting a chance at a ton of playing time there with what we know we have," Mozeliak said, "and what we know we have coming."
That is a reference to first-round pick and rising prospect Kolten Wong.
• The other prospect discussed was Oscar Taveras, the outfielder and Texas League most valuable player.
"He is the most prolific hitter I've seen in our organization in a long time, probably since Albert Pujols," Mozeliak said. "To think he'll play in the major leagues in 2013 -- I wouldn't rule it out."
• Mozeliak also tied how the 2012 went with how the 2013 season should be welcomed in a summary statement.
"The general narrative of 2012 was all of the turnover and change and still having the same success in the season," Mozeliak said. "The hurdles this organization had to deal with ... and then handling them internally. We'll utilize that (farm system) as an asset to sustain the success that we had this year."