Holliday plays on through family health crisis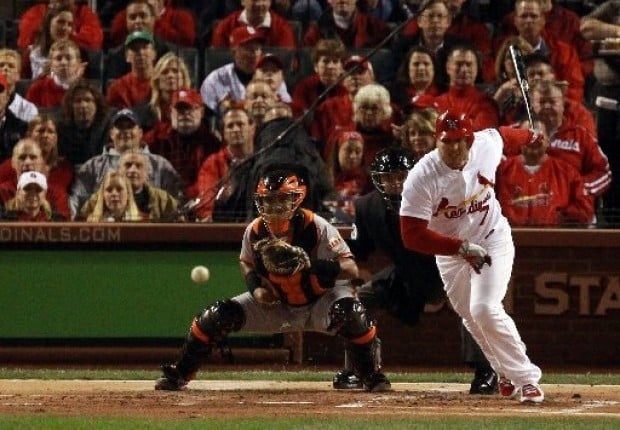 With a series-clinching win over the Giants tonight, the Cardinals could assure themselves of spending the next eight days at home.
So in a way, they play today for left fielder Matt Holliday, who helped position the Cardinals for their 8-3 win in Game 4 of the NLCS with two RBI singles.
A win today puts the Cardinals in the World Series — which starts Wednesday and for which St. Louis would have home-field advantage — and allows Holliday to remain in town close to his mother, Kathy. She underwent surgery in a St. Louis hospital hours before Thursday's Game 4 for removal of colon cancer.
"It's been hard. This week's been hard," Holliday said. "It's part of life, part of being a big boy. You've got to deal with what happens in your life. I wish it wasn't. But it's part of it. She's doing good and we've had great support."
Aware of Holliday's personal situation, the Cardinals clubhouse said little publicly out of respect. It wasn't until the clubhouse thinned almost an hour after Thursday's win that the left fielder addressed it at any length.
"He's a brother to us," offered third baseman David Freese. "We're all here for him. He knows that."
The family crisis happened quickly. Kathy Holliday was diagnosed with colon cancer while the Cardinals played the final segment of the division series in Washington.
The club's medical staff helped arrange for her surgery to take place in St. Louis. Holliday spent much of the day with his family at a local hospital.
He was there when his mother came out of surgery and later when she awoke, still groggy.
"The doctor was very pleased with how it went," Holliday said.
Holliday did not hit on the field before Thursday's game. He said nothing of his personal situation during a group postgame interview.
He had hoped to avoid addressing the matter publicly but became concerned when word began to leak via social media.