Jay's in charge in center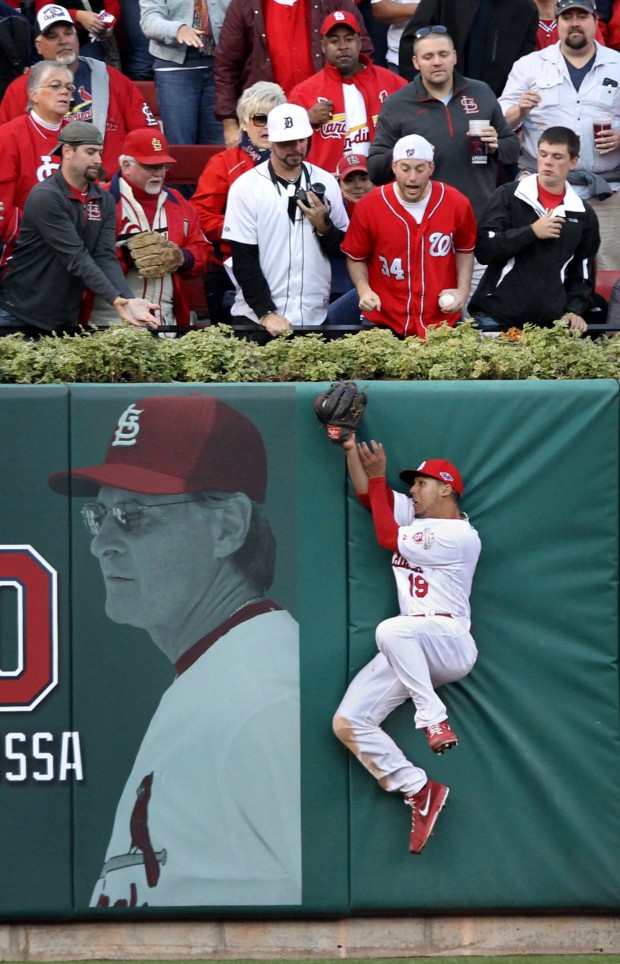 It happened early in spring, perhaps even the first time they met as teammates, and its importance carried all the way through October.
Carlos Beltran, who has three Gold Glove Awards as souvenirs from his time as a center fielder, approached Jon Jay, the Cardinals' full-time center fielder for the first time. Jay had been thinking all offseason about how he needed to be more assertive in center. He wanted to lead more, yield less. And here was the Cardinals' new right fielder, one of the finest center fielders of his generation, coming to him with some words of advice.
"Hey, do your thing out there," he said, as Jay recalled. "You're the center fielder."
Emboldened by that role and encouraged by the two veterans flanking him, Beltran and left fielder Matt Holliday, Jay emerged this season as what manager Mike Matheny called "the quarterback of the outfield." Jay started 108 games in center, led the team in highlight-reel catches and went the entire regular season without committing an error. He will at least be a finalist for the Gold Glove Award and could win his first — a fact that his manager, general manager and even teammates trace back to what he first did in spring training.
He took charge.
"The largest area of improvement was really just him taking control of the outfield," Matheny said. "That's a pretty tough spot for a young player to be put into when you have Matt Holliday on one side and Carlos Beltran on the other with a lot of accolades on their shelves. He took control and that's a huge part of the position: (don't) be afraid to tell a guy, 'Hey, you need to get closer to the line.' They certainly have respect for Jon and his instincts now, and that's a huge step forward."
Added Jay: "I think it was having the chance to know I was going to be out there more, knowing that I was going to get the time to prove myself."
Time worked for Jay. It only recently worked against him.
Last month, the center fielder heard from his agent that he would fall less than a week shy of qualifying for arbitration this winter. This week it was announced that "Super Two" status was given to the players between two and three years of experience with the top 22 percent of service time.
Under the agreement between the union and the leagues last November, the bar this offseason was set at two years, 139 days. Jay has two years, 134 days. Those five days mean Jay won't have access to arbitration to raise his salary for 2013 and the Cardinals will have control of him for another four seasons.
"I came into the year knowing the situation. It doesn't change anything for me," Jay said. "I don't take anything for granted. I know how this game is. You've seen it a lot with guys in other years. You're in. You're out. I work hard to stay consistent. That stuff takes care of itself."
Jay speaks from experience because he's often been the player who was in while others were out. In 2010, his play as the fourth outfielder allowed the Cardinals to trade Ryan Ludwick for Jake Westbrook. In 2011, Jay outplayed Colby Rasmus in center and that led, in part, to a deal that sent Rasmus to Toronto and instantly steeled the bullpen for an October run. In 2012, Jay took over as the everyday center fielder, and he'll return as the incumbent in 2013 — but there may be a challenger on the horizon.
Oscar Taveras, 20, is being developed as a center fielder, and on Thursday general manager John Mozeliak called him "one of the most prolific hitters I've seen in our organization probably since Albert Pujols." Taveras won the Texas League's equivalent of most valuable player award after batting .321 with 23 home runs, 94 RBIs and a organization-high .572 slugging percentage. In six games already this fall for the Dominican Winter League, Taveras has a .364 average with two homers. Projected initially as a right fielder, Taveras has improved enough for the team to think his athletic ability will translate to center.
Although Taveras will come to big-league spring training in 2013, that doesn't mean he'll arrive as a center fielder or that he'll leave spring with the major-league club.
That takes time.
"That's a great question, frankly," Mozeliak said when asked how a young player could take control of the demanding position. "That should be what drives the answer. It is the hardest position to play as a rookie. When you think about getting Taveras in the mix I'm not sure what that looks like."
What it means for Jay is the very thing that allowed him to stand out and take over as center fielder for the Cardinals is what will keep him there.
He seized control of the role.
"Right now, he's our center fielder," Mozeliak said. "And he played like it."
Jay started the final 41 games of the regular season in center and all of the 13 playoff games. He will have his right shoulder re-examined soon to assure that the injury he sustained in April doesn't have lingering effects. Jay also took over at leadoff when Rafael Furcal faltered, and the lefthanded-hitting outfielder batted .303 in the top spot. Though a .224 average and a .289 on-base percentage on the road was a riddle, and hole in his season. Jay doesn't plan to spend much time this winter fretting about that extreme split, focusing instead on improving his approach at leadoff and his angles in the field.
He sees winning a Gold Glove much as he views falling short of arbitration: It takes time. Often a stellar defensive season puts the player in the conversation first and the Gold Glove doesn't follow until a year later — if the fielder earns the opportunity for an encore.
"I understand how all this stuff works," Jay said. "I know how this game is — you have to wait your turn. You have to put in your time, pay your dues. ... You put in your time, your work, and you wait patiently and then your time comes."