Cardinals stay on steady course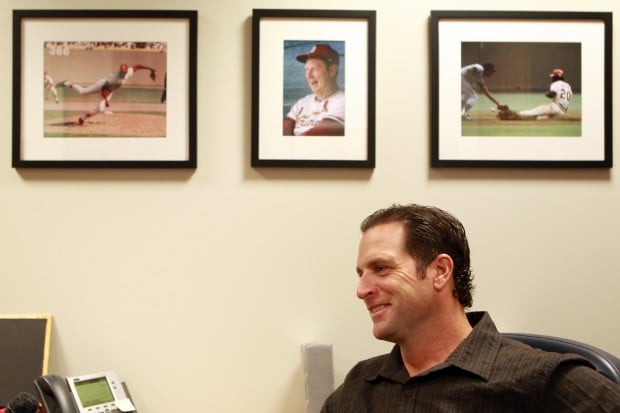 Next season's Cardinals team will bear a striking resemblance to the edition that secured 88 games this season, captured the wild-card playoff, unseated the Washington Nationals in a best-of-five playoff and ultimately couldn't protect a 3-1 lead in the National League championship series.
General manager John Mozeliak offered the appraisal during a far-reaching Thursday briefing at Busch Stadium. Mozeliak allowed that free agent 16-game winner Kyle Lohse and oft-injured first baseman Lance Berkman don't fit into a future heavily reliant on organizational depth but said he has challenged his front office to find "creative" methods to improve the club.
"If you go around the diamond right now you would assume all these jobs are locked up and that sort of scares me looking at next year," Mozeliak said during a morning 40-minute session. "I just want to make sure that we're really taking a step back as we enter the (general managers') meetings, winter meetings and free agent market that we're not close-minded to anything that might improve this team."
Mozeliak spoke optimistically about pitcher Jaime Garcia's and shortstop Rafael Furcal's ability to avoid surgery following respective season-ending shoulder and elbow issues. He also minimized the possibility of center fielder Jon Jay requiring a procedure to address a shoulder weakened in an early-season collision with the Busch Stadium wall.
Most of all, Mozeliak voiced confidence in an increasingly productive minor-league system that is shifting from a complementary resource to a primary one.
Mozeliak insisted young arms Joe Kelly, Trevor Rosenthal and Shelby Miller would arrive at spring training positioned to compete for a spot within a starting rotation that already boasts five pitchers under control. The fifth-year GM referred to outfield prospect Oscar Taveras as "the most prolific hitter I've seen in this organization since probably Albert" Pujols and said that second base prospect Kolten Wong would compete for playing time next spring as well.
Ramifications for the current club are mixed:
Mozeliak referred to Jay as "our center fielder, and he played like it." The description softens any expectation Taveras, rated by many draft analysts as among the game's top five prospects, might unseat Jay next season. Jay's value is especially high as he fell six days of major-league service shy of reaching "Super Two" eligibility for arbitration.
Still, Mozeliak said he believed it likely the 20-year-old Taveras would appear with the parent club at some point in 2013. Mozeliak described Taveras as "an unbelievable hitter."
An anticipated crush at second base should include Daniel Descalso, Pete Kozma, Wong and potentially Matt Carpenter, who will use this winter to add a fifth position to his repertoire. The glut argues against veteran Skip Schumaker, the starter at the position for more than two seasons, receiving significant time there.
"It's hard to imagine him getting a ton of playing time there with what we know we have and what we have coming," Mozeliak said.
Schumaker's role on the club would appear further pinched with Jay, Matt Holliday and Carlos Beltran forming an everyday outfield. Mozeliak made clear he would seek to bolster a bench that represented a weak link in October.
All but neutered once Allen Craig and Carpenter filled frequent starting roles, the bench could use "that little extra thump late in the game," according to Mozeliak. "Overall, there were reasons why our bench became what it was. That's certainly something we'll look at in the offseason."
Craig remains more comfortable on an outfield flank, according to Mozeliak, but his immediate future remains at first base.
Craig's ascendance leaves little need to bring back Berkman following a season truncated by two right knee operations that left him unavailable for the postseason. For the same reason, prospect Matt Adams appears blocked.
"When you look at the depth we have coming, it's hard to imagine us finding a fit for (Berkman) here," Mozeliak said.
The return of Adam Wainwright, Garcia, Jake Westbrook, Chris Carpenter and 18-game winner Lance Lynn similarly argues against offering a long-term deal to Lohse, who looms as one of the market's three most attractive starting pitchers. The club hasn't approached Lohse (16-3, 2.86 ERA) about his pending free agency, nor does Lohse expect it to happen. Mozeliak called extending the relationship "probably unlikely at this time."
Lynn's conditioning drew the club's attention, and both Mozeliak and Matheny indicated emphasis was placed on the big man tapering himself this winter.
With an abundance of power right arms available in relief, the Cardinals will pursue additional depth on the left side. Marc Rzepczynski was the only lefthanded reliever on the team's postseason roster and was seldom used.
Mozeliak noted the availability of hard-throwing rookie Sam Freeman while allowing that he would be aggressive within the market.
"Overall, I would say that's on the short list of things to look at," he said.
The glut of righthanded relief makes it likely the club won't offer a contract to Kyle McClellan, the bullpen's senior member. McClellan, who is still rehabilitating from shoulder surgery in May, has cleaned out his Busch Stadium locker and may shift his rehab to an outside trainer.
Mozeliak and manager Mike Matheny remained at a loss to explain a prolific but inconsistent offense that suffered its final brownout while scoring only one run during the Cardinals' last three losses to the San Francisco Giants in the NLCS. The tendency, however, may lead the club to aggressively pursue a situational lefthanded bat this winter.
"It's a very odd year to explain when you look at the run differential (plus-117) being one side of the equation and then look at our one-run games (21-26) and lack of success," Mozeliak said. "There's not one place you can point to in explaining it."