Game 5 intrigue: Start Lynn or use Carp on short rest?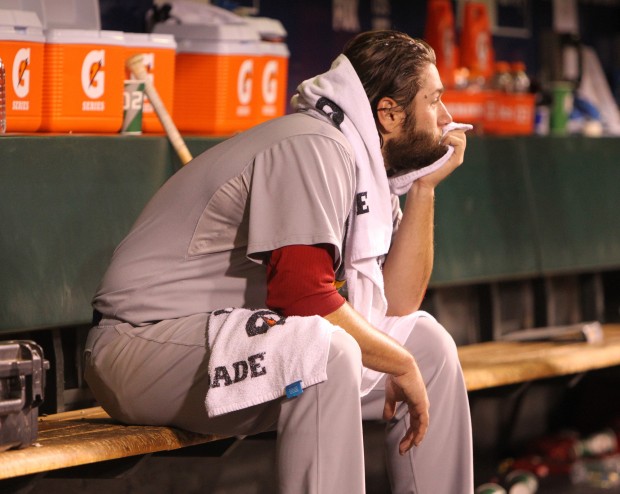 SAN FRANCISCO • Before Monday's game, Cardinals manager Mike Matheny appeared leaning toward giving Lance Lynn another start, in Game 5, despite Lynn's troubled 3 2/3 innings appearance in Sunday's 6-4 win.
"I like where Lance is right now. I want him to continue preparing for his next start,'' Matheny said. "That's where my thinking is."
The manager's comment stopped shy of a guarantee, apparently because the club is weighing several options that include bringing back Chris Carpenter on short rest based on how he is after pitching Monday night, when he lasted only four innings in the Cardinals' 7-1 loss. He made only his fifth start since returning from surgery in July to alleviate a nerve condition.
Lynn experienced no physical problems during or after his abbreviated start Sunday, according to the club. However, Matheny admitted Lynn's task might have been complicated by working in relief in four of the team's six previous postseason games.
"It has been a test for him going back and forth," Matheny said. "That's not easy on anybody, especially somebody that goes to the All-Star Game as a starter, somebody who was leading your team in wins. All of those things point in the direction of consistently being in there every fifth day. He's had an opportunity to grow through some of the things we've thrown at him, like going to the 'pen. He knows he has to do whatever he can to help us win."
Pitching coach Derek Lilliquist said the Game 5 starter has not been determined and that "there are a number of possibilities."
Lilliquist did not elaborate but apparently the club is more prone to move Carpenter ahead in the rotation than to give a start to one of three rookie relievers: Joe Kelly, Trevor Rosenthal and Shelby Miller.