Cardinals are armed and ready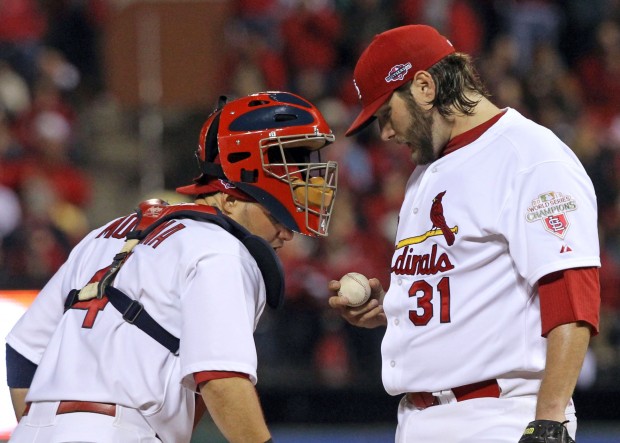 When Chris Carpenter started his unexpected push to return to the Cardinals' rotation this season, his arm felt strong, his surgically improved shoulder responded, and his conditioning hadn't softened. One thing gave him pause.
He saw the young arms the team had used in his absence.
"We have a group of young people who I was like — well, should I really come back?" Carpenter said. "I'm telling you, I had that in my mind. Is my stuff and my ability going to benefit us? ... We have some power guys, some competitive guys, some hard-working guys, some guys who care, all these young guys.
"It's totally different than when I first came here."
Despite what appears like the inevitable departure of starter Kyle Lohse to free agency, the Cardinals will return five incumbents for the rotation in 2013. Carpenter expects to be full-strength, joining Adam Wainwright, Jake Westbrook, Jaime Garcia, and Lance Lynn. That does not mean the rotation is settled. Youth must be served.
The Cardinals plan to open up at least one spot in the rotation for competition; so encouraged by what they saw from young lions like Joe Kelly, Trevor Rosenthal, and Shelby Miller that the organization will give them a chance to compete for a spot with Lynn. All he did was take over Carpenter's spot in the rotation, win 18 games, and earn a spot in the All-Star Game. All four of the contenders will be 25 or younger.
"To have these guys step up and do what they did shows us a lot of this isn't all smoke and mirrors when we talk about what we have in the minor leagues," general manager John Mozeliak said. He added later: "You never have enough pitching, but I do think from our end a lot of it has crystallized in terms of exactly what we have. First of all, we've never had this kind of conversation where we felt like we had this kind of depth and this kind of quality of depth."
Although the rotation lost Carpenter to nerve issues during spring training and didn't have Wainwright or Garcia at their best for several stretches, it still propelled a team that came one win shy of the World Series. The Cardinals' starters had a 3.62 ERA combined, which ranked third in the National League, and their 71-47 record was second to Washington. What propped up the rotation beyond Lohse's 16-3 season was the arrival of Lynn as a starter and Kelly as a big-leaguer. Before faltering in the second half and moving into the bullpen, Lynn was 11-4 with a 3.41 ERA as a starter. Kelly went 4-6 with a 3.74 ERA as a starter and had seven consecutive quality starts while filling in for Garcia.
Rosenthal and Miller, September callups, joined later, primarily as relievers, and both pitched their way onto the playoff roster. Rosenthal used his overpowering velocity — more than half his pitches were 99 mph or faster — to 15 strikeouts in 8 2/3 innings in the playoffs.
"Joe and Lance and Trevor and Shelby — those are big-time arms that are going to be here for a while," Wainwright said. "When you're going to sign somewhere long-term, you want to look at what kind of team you're going to have, who you're going to call teammates. And the future here is real bright."
Although their immediate future could be in the bullpen, all four young guns will come to spring training as starters, conditioned for a starter's workload.
Garcia's health is a question mark as November arrives, and Mozeliak said his availability for 2013 won't truly be clear "until you ramp it up and put yourself on the mound." If Garcia requires surgery or is slowed by shoulder trouble, a second spot in the rotation would open. Assigned to improve his conditioning this winter, Lynn figures to be the favorite. Kelly and Rosenthal have proven proficient in a relief role but capable of starting. Miller has been pegged since being drafted 19th overall in 2009 as a future starter.
Manager Mike Matheny said though the young arms will come to spring as starters, they'll leave in whatever role improves the major-league club.
"We appreciate our development system, but we're not in the development business in this clubhouse. We're in the winning business," Matheny said. "So, we don't want somebody sitting around here to be a mopup man if they can be getting better as a starter (in Class AAA). But if he can help us win, that's going to be the focus."
On Thursday, Rosenthal was back at Busch Stadium, preparing for a workout in the players' weight room. Rosenthal has relocated to St. Louis for this winter in order to shadow Carpenter and others as he prepares for 2013. Wainwright was there packing up his locker and he chided the rookie for getting back to work.
Take two weeks off, Wainwright said.
Rosenthal offered a reason to keep working.
Take two weeks off, Wainwight insisted. He added that Rosenthal deserved the rest and needed the rest "if you're going to be a starter."
That's the only if for Rosenthal and the others.
Their role is uncertain, their future contribution isn't.
"We're going to go to spring training not sure what to do with everybody," Carpenter said. "We're going to have too many guys, guys who have already proven themselves in the minors, guys who have already proven themselves here. There could be four guys for one spot and all four deserve it."