Cardinals needs for 2013 are 'complementary'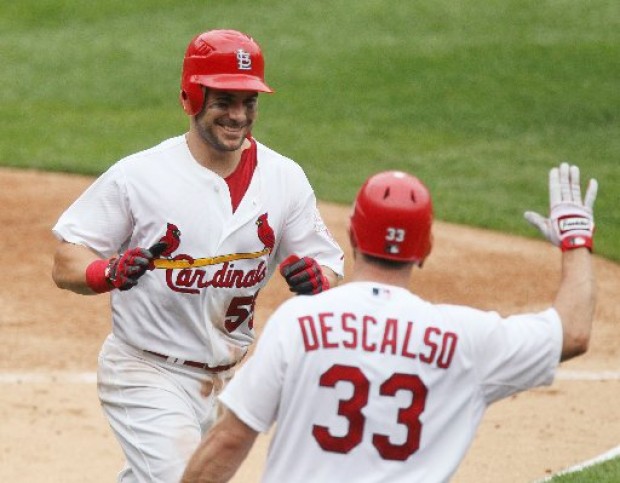 There is no massive contract to broker, as was the case with Matt Holliday after the 2009 season or Albert Pujols following the Cardinals' 2011 world championship.
No glaring need exists within the Cardinals' performance core, such as one that led to signing veteran right fielder Carlos Beltran to a two-year guarantee – a deal that curiously enough compensated Beltran more handsomely in 2012 than what Pujols received in the first installment of his 10-year bonanza.
Unlike last November, general manager John Mozeliak faces no paralysis as this year's free agent market opens.
What Mozeliak does see is opportunity on a smaller scale than the $120 million required to re-sign Holliday in January 2010 or even the $26 million he devoted to Beltran last December. Mozeliak has spoken of "creativity" to address more complementary needs that picked at the Cardinals for much of an 88-win season that fell one win shy of the World Series.
For all their recent postseason success, the Cardinals have secured just one division championship the last six seasons. They have reached 90 wins twice during the span. More and more they appear content to construct a team able to win through balance than dominance. The last two seasons have forced the organization to compensate for the loss of a starting pitcher during spring training. Uncertainty about Jaime Garcia's left shoulder creates fear for another such episode. Though Mozeliak has spoken confidently about shortstop Rafael Furcal's ability to avoid elbow surgery, Furcal's status is the source for lingering unease within the organization.
Mozeliak appears motivated to address the club's middle-infield uncertainty. At various times last season Tyler Greene, Skip Schumaker and Daniel Descalso served as primary second baseman. Greene was traded and the same fate could befall Schumaker after he entered virtual quarantine for much of September and the postseason. To many, Descalso offers more value in a utility rather than an everyday role.
The club projects highly rated prospect Kolten Wong as its eventual starting second baseman. However, Wong has never taken an at-bat beyond Double-A Springfield. Barely 22, Wong is more likely to join a crush of competition at the position next spring rather than arrive as a prohibitive favorite to earn the role.
Though publicly confident in Furcal's availability, Mozeliak is privately wary of exposing a premium defensive position in the manner that occurred after Furcal suffered an August 30 ligament strain.
The Cardinals may pursue short-term fixes at both positions rather than entrust their depth to organizational players such as Pete Kozma, Ryan Jackson or Wong.
Just as Mozeliak committed a premium ($13 million) last winter to retain Furcal and his complicated medical history, the Cardinals could overpay to add a player for one year. Middle infielders Stephen Drew, Jeff Keppinger, former trade target Alex Gonzalez and NLCS Most Valuable Player Marco Scutaro represent the most attractive alternatives.
Drew, Keppinger and Scutaro will command starter's money with term an additional complication. The Oakland A's last month declined their $10 million option on Drew, who has taken a combined 608 at-bats the last two seasons, hitting .238 with only 12 home runs along the way. Drew, 29, could fit the profile of a player willing to accept a one-year "pillow" deal in order to rehabilitate his value before returning to the market after next season.
The Cardinals realized, but wouldn't acknowledge until after their postseason elimination, that they flexed a substandard bench. A lack of maneuverability too often left manager Mike Matheny at the whim of an opposing bullpen. Unable to dictate match-ups, Matheny was forced to hope a series of walks and singles might accomplish what one power bat could create. They rarely did.
Lance Berkman's injury-riddled year forced Allen Craig into an everyday role. By itself the development was not a bad thing given Craig's productivity at first base. However, a domino effect radically altered offensive depth.
When healthy, the Cardinals can afford to keep Matt Carpenter on the bench as a late-inning bullet. Should he be pressed into a starting role because of injury elsewhere, a re-enforcement such as Jonny Gomes or Laynce Nix would fit. Gomes and Nix also fit the profile of a short-term, budget-friendly veteran addition. A desire to offer left fielder Matt Holliday and Beltran more liberal playing time could dovetail with the acquisition of another flank outfielder.
If a short bench paralyzed Matheny at times, so did the lack of a second lefthanded reliever. The late-inning righthanded formula of Edward Mujica, Mitchell Boggs and Jason Motte offered little opportunity for Marc Rzepczynski. However, Rzepczynski's ineffectiveness for much of the season also fed a predicament that saw the club invest false hope first in J.C. Romero and then Brian Fuentes. Neither made more than 11 appearances before discarded.
The Cardinals typically have invested little in lefthanded relievers, opting instead of low-cost options such as Brian Tallet and Trever Miller. Lacking lefthanded relief became a torpedo that helped sink the 2008 season as well.
Flush with righthanded power relievers, the Cardinals could stick with six rights in the bullpen and commit to a single more established left such as Sean Burnett or Jeremy Affeldt, who is coming off a three-year, $14 million contract. Consensus exists that the club is not well served with Rzepczynksi as its sole lefthanded reliever.
Uncertainty over Garcia could vaporize flexibility within the rotation. If Garcia is fit, the club intends to open competition among Lance Lynn, Joe Kelly, Shelby Miller and Trevor Rosenthal for the fifth starter role. Mozeliak and Matheny emphasized to Lynn a need for more diligent conditioning this winter and made clear that a starting role is not guaranteed the returning 18-game winner.
The club hopes to know more shortly about whether Garcia will indeed require surgery.
Should such a need arise, costing Garcia a significant portion of next season, Mozeliak would then contemplate whether to pursue another veteran starter on a short-term deal.